Smart Ceiling Fans
---
---
The Next Wave of Smart-Home Automation | Shoppers Lighting
No more missing ceiling fan remote controls or dead batteries to worry about.
Just say, "Alexa, turn on the fan!"
Most of us are familiar with the concept of a smart home: one that is equipped with devices that automate processes and tasks that would normally be handled by humans. It seems everyone has some sort of smart hub or device in their home – think Amazon Echo or Google Home. These devices give you the ability to control lights, monitor your home security, play music and even control your television with an app on your phone or with your voice! While these features are desirable, one of the greatest benefits to living in a smart home that often goes overlooked is increased energy efficiency.
Ceiling fans not only add to the aesthetic of your home, but also provide improved comfort: a cool breeze in warm weather, or a source of warm air circulation in cold weather. This comfort comes at the cost of energy usage reflected on your monthly electricity bill. While the introduction of DC motors and improved blade design have helped to cut energy usage in ceiling fans, it has always been up to the user to make sure the fan is turned on upon entering, or off upon leaving a room (remember this - a ceiling fan is of no use to anyone when left on in an empty room). This will no longer be a problem with Smart Ceiling Fans!
What is a Smart Ceiling Fan?
Smart Ceiling Fans are equipped with technology that allows you to control its functionality using a smart phone, tablet or smart-home device. Control your ceiling fans from anywhere with your phone or voice, or even link your Smart Ceiling Fan to your smart thermostat for automated temperature control. Save money on your energy bill by automating when your Smart Ceiling Fan turns on or off. No more missing ceiling fan remote controls or dead batteries to worry about – just say "Alexa, turn on the bedroom ceiling fan!"
Featured Smart Ceiling Fans
---
Shop our collection of Smart Ceiling Fans and give our knowledgeable Customer Care Team a call with your questions today! Let us help you save money and improve your home with a new Smart Ceiling Fan.
Already have a ceiling fan?
---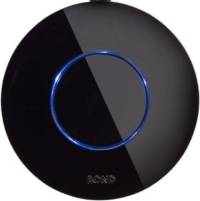 Have you just recently purchased a ceiling fan and want to convert it to a Smart Ceiling Fan?
Turn any ceiling fan into a Smart Ceiling Fan with the Bond Bridge!